I hope your having a great day so far!!! I have been busy making some Halloween decorations and being a mom so I have been pretty busy but I wanted to enter the Cricut Circle Challenge with this framed pumpkin graveyard I made...I love it!!!!! It was fun and I have to say I this is my first time creating anything like this and I had so much fun I will be doing it again. I took several pictures from my iPhone because my camera hasn't been working and let's face it I'm in desperate need of photography lessons...lol!!!! Please enjoy...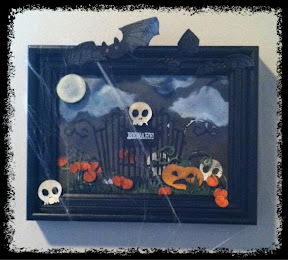 Hopefully you can see all the details I applied to this graveyard and that you have found inspiration to create a framed artwork too!!
i also entered into Scrapalicious hanging challenge!!
Thanks for stopping by and Have a crafty day!!!
Alina
- Posted using BlogPress from my iPhone