Hello everyone!!!!! I would like to say that being a part of this Design team has been an HONOR!!!!!!! Abby is such a great leader and the team is so great!!!! I see so much for Abby is her future and I just wanted to say to Abby how thankful I am for having been chosen to join her talented team. I hope to continue on playing along with her challenges going forward. Thank you again ABBY!!!!!!
For this challenge, My final DT challenge, ANYTHING GOES...
I was a the expo this weekend in Saint Charles with some amazing woman (
Jessica
,
Zoe
and
Haidee
(at Haidee's hubby Jim) and I had so much fun shopping, hanging out, eating, being silly, and of course getting down and CRAFTY!!! Jessica is starting to sell this amazing paper from Tada so I took advantage and I decided to use some of her papers and a plaque that I bought at the expo with my AMAZING TWINE from
the TWINERY
and my
SAKURA GEL
pens in white and metallic green. I am thankful to both companies for providing us with their amazing products. Please click on their links to see the lines and colors available because I promise you will LOVE everything you see and get.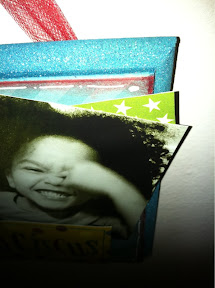 This twine is amazing and so vibrant...I will be posting more stuff I made with The Twinery twine and Sakura gel pens, soon so come back for more inspiration
I love how the gel pen shines!!!
This title fit perfectly with my little Ahnais, she is such a clown almost all the time just like her daddy. It's so amazing how much of his personality she really has.
Hope to see you join in the challenge!!! I am now able to make comments so look for my comments more from now on!!
Thank you so much for following (if you do) and I hope that I have inspired you in these challenges!
Now head on over to
Scrapbookaholic Abby
in case you haven't already so you can join in on the challenge and see the great sponsers and candy of this challenge!!!!!!
Until next time,
Alina