Hello everyone!!! Hope your day is going well. I am so excited to be a part of this hop and I really hope that you like what I have created...
This hop starts with Sylvia at
BellaScrapbookDesigns
and if you followed the hop you should be coming to me from Jessica at
Chick-n-scrap
and I am sure you have been inspired along the way. If your like me you would have been so inspired along the way you would have to stop the hop to create and come back to it later.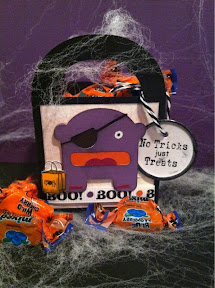 I used mini monsters basic grey
KinderStampO
(tag) and also my rented stamps from
Raisin Boat
(the treat bag) and the tag is held my some twine from
the Twinery
I hope I inspired you!
Thanks for stopping by and your next stop is Theresa the
Scrapbooking Queen
and I am positive she has something amazing for you
List of Participants
1. Sylvia-
http://www.bellascrapbookdesigns.blogspot.com/
2. Sandra-
http://www.365daysofcricut.blogspot.com/
3. Sandy-
http://www.thecraftycreationspot.blogspot.com/
4. Eva-
http://www.evasscrapsncards.blogspot.com/
5. Melissa-
http://www.timeweavers.com/
7. Kerri-
http://www.crafttimeandcupcakes.blogspot.com/
8. Patricia-
http://www.creativediva98.blogspot.com/
9. Diana-
http://www.daisylovecreations.blogspot.com/
10. Brynn-
http://www.flairandfrillscreativity.blogspot.com/
11. CallyAnn-
http://www.callyanncraftycreations.blogspot.com/
12. Martha-
http://www.pattisscrapingtime.blogspot.com/
13. Veronica-
http://www.mommyscraftycreations.blogspot.com/
14. Elsa-
http://www.cricutlvr.blogspot.com/
15. Suzy
http://www.scrapwithsuzy.blogspot.com/
16. Monica-
http://www.simplycricutting.blogspot.com/
17. Giselle-
http://www.crossmyheartpapercrafts.blogspot.com/
18. Julie-
http://www.cricutchick.com/
19.Jessica-
http://www.chick-n-scrap.blogspot.com/
20. Alina-
http://www.neverstopscrapping.blogspot.com/
21. Theresa-
http://www.thescrapbookingqueen.com/