Hello!!!! Thank you so much for joining us on this Beach Party Blog Hop!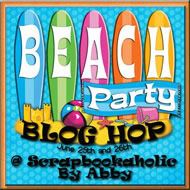 This hop starts with Abby
here
and I am actually the end of the line. Don't forget to leave comments on the blogs along the way!
I really don't feel like its much of a summer yet because of all this rain but this hop brought the warmth to me and I had a blast making these layouts.
I used paper from my stash and I am sad to say that I was being rushed and I do not remember the paper line. But I know that I used Pack your Bags and my teal expression
Again, I used paper from my last years stash and my Childs Year cartridge.
A close up

Hope you like the layouts!!!!
Thank you for following along with the hop and I am sure you all have been inspired and warmed by all the wonderful projects!!!
Have a great weekend!!
NEXT:
Ashley
http://www.myscrappinpalace.blogspot.com/
Prizes offered at Abby's:
*** Market Street Stamps "Punched Tin" background
*** Sakura (6pack Gelly Roll Glitter Pens)
*** Kich N Bleus Designs (Last Collection)
*** KaDoddle Bug Designs (Collection of Choice)
Here is the line up in case you get lost:
*Abby
http://www.scrapbookaholicbyabby.com/
*Sandra
http://www.365daysofcricut.blogspot.com/
*Pammejo
http://www.pammejo-scrapbookflair.blogspot.com/
*Michelle
www.scrappinwithmybug.com/
*Meighen
http://www.scrappin3rdeeschik.blogspot.com/
*Maria Elena
www.mariaelenaworld.blogspot.com/
*Liz
www.lizspaperloft.com/
*Kristin
http://www.pinkldycrafter.blogspot.com/
*Kim
www.rickettscricuts.blogspot.com/
*Karla
http://www.kalittlescrapcorner.blogspot.com/
*Gaby
www.gabycreates.com/
*Erin
www.erinleecreative.com/
*Erika
http://www.cricutlove1.blogspot.com/
*Emily
www.createserendipity.blogspot.com/
*Christine
http://www.scrapbookingtechnique.blogspot.com/
*Celeste L
http://www.touchedbyabutterfly.blogspot.com/
*Celeste B
http://www.ccscards.blogspot.com/
*Carley
http://www.the-real-icarley.blogspot.com/
*Candace
www.papercraftsbycandace.blogspot.com/
*Angelica
www.handmadebyangelica.com/
*Amber
http://www.stayingcrafty.blogspot.com/
*Ashley
http://www.myscrappinpalace.blogspot.com/